Video transcriptions are the textual representation of spoken content in a video file. The process of adding subtitles to a video is done by human transcriptionists, speech recognition software, or a combination of the two. YouTube is the world's largest video sharing community, where over 5 billion videos are viewed every day. YouTube transcripts are used to create captions and contain only the text of the audio in the YouTube video.
Benefits of YouTube Transcription & Captioning
YouTube transcription and captioning make content accessible for persons with limited or no hearing. People who want to watch YouTube videos in an environment that is not conducive to playing audio can easily consume the content using transcripts and captioning. YouTube video transcripts also help people who don't have expertise in the language spoken to understand the video better. Finally, transcripts provide vocabulary and spelling references for people trying to learn the language spoken in the video.
Video transcripts provide valuable text that can be ranked and indexed. Videos with transcripts rank higher in searches boosting their SEO. Inbound traffic and user engagement significantly increases. YouTube video transcripts provide viewers with a different way to digest information. Viewers can scan a video for keywords if they are interested in a particular word. The transcript can be interactive and highlight words as they're spoken in real-time. This timed-text approach keeps viewers engaged as they read and hear the content at the same time.
How to Get a Transcript of YouTube Video
It's fairly easy to download a transcript from YouTube. Keep in mind that transcripts are only available for videos with closed captioning. YouTube has Google's speech recognition software for automatically generated transcription for most of the videos as soon as they are uploaded. Some owners of YouTube videos provide their own transcripts, which are of better quality than those produced automatically.
While it's come a long way in recent years, it's important to keep in mind that a machine still cannot provide a perfect transcript of any video or audio file. The accuracy of an automated transcript greatly depends on audio clarity, accents, conciseness of the speakers, and many other factors.
Free Captioning Tool on YouTube
Log in to YouTube and open the video
Click on the More Options (three dots below the video)
Select the Open Transcript option from the drop-down menu
Once you click Open Transcript, copy and paste all the lines of text that appear to an editor of your choice to have a complete transcript that you can edit.
To remove the timestamps, click on the More Options icon (three horizontal dots) and select Toggle Timestamps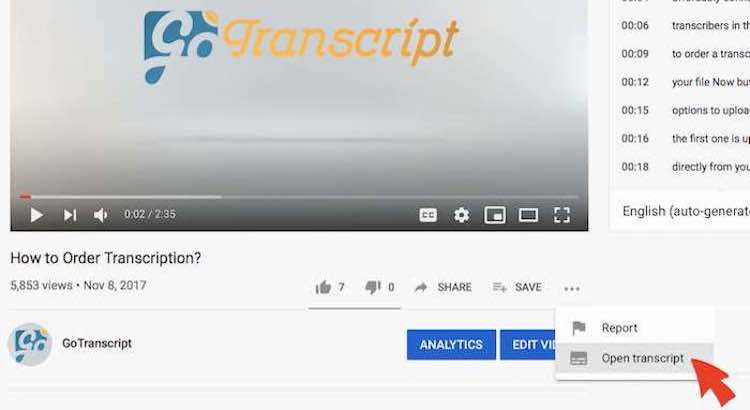 Now you know how to get transcript of YouTube video. This option provides both automatic (for example, English auto-generated) and manually (English) captioned videos.
Transcribe with Google Docs
There's also an option to transcribe a YouTube video without an available transcript. Google Docs has a built-in voice typing feature that listens to video or audio and automatically types what it hears.
Make sure the PC is listening directly to the audio coming out of the PC's speakers
Open Google Docs
Start a new document
Under Tools, select Voice Typing
Open the video on YouTube
Play the video with sound and click on the microphone (Click to Speak icon) on Google Docs
Google Docs will automatically type what it hears. If the audio has background noise or the people in the video are stuttering, the accuracy plummets. This particular speech-to-text service also suffers from occasional glitches. Sometimes the tool will stop transcribing, and you have to click the Voice Typing tool to restart. Automatic speech-to-text services have come a long way but cannot achieve the human levels of accuracy. In most cases, your transcription will still require heavy editing to make it perfect.
Download Transcript From YouTube
The speech-to-text services market is rife with tools targeting the largest video sharing site. Some websites offer tools that can convert YouTube videos into text, promising high accuracy with a short turnaround. Popular sites include Clipconverter, Free CC Converter Tool, Keepvid (also offers video download), and Way With Words. YouTube transcript downloads from these sites will differ in time delivery and quality. Still, one thing is consistent; the content's accuracy is limited by the fact that speech-generated transcription usually contains a fairly high amount of errors.
Or Leave It to the Experts
With over 15 years of experience and thousands of satisfied clients, including giants like BBC and Netflix, GoTranscript offers a team of carefully selected and trained professional human transcribers who are ready to take your videos to the next level. We guarantee maximum accuracy through an efficient four-step process that meets deadlines while upholding 99% accuracy. Our transcribers can handle all media types, including orders that feature thick accents, multiple speakers, or background noise.
Ordering transcription and captioning services with GoTranscript is easy, affordable, and transparent, with no hidden charges. Sign up today and check the quality of our work with a free trial!